Since its foundation in 1918, CITIZEN has promoted a global, multicultural mindset that fosters excellence and creativity. In 2015 CITIZEN Watches Australia marks its 50th anniversary, celebrating half a century of improving the lives of everyday Australians with innovative, world-class watches. As citizens of the world, we make it our responsibility to help cultivate a culture of positive change and ongoing evolution through our craft. We take this mission seriously and eagerly welcome what the future may bring.
As a true manufacture d'horlogerie, CITIZEN integrates a comprehensive manufacturing process that extends from creating a watch's individual components to its final assembly.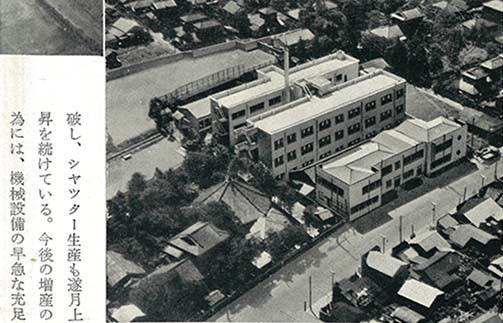 A history of innovation
Our 84-year company history of world firsts includes watchmaking innovations such as radio-controlled and satellite-synchronised timekeeping. A pivotal advance was the development of a revolutionary light-powered technology, Eco-Drive, which CITIZEN pioneered well ahead of other watch manufacturers – as early as 1976. Using electrical power converted from virtually any light source, this extraordinary innovation changed forever the way watches could be powered. Eco-Drive eliminates the need to replace batteries, making it especially beneficial in areas where specialised batteries are not available. This advance increases the availability and usability of CITIZEN watches, allowing more people the experience of enjoying our crafted timepieces.
In 1924, the Shokosha Watch Research Institute produced its first "CITIZEN" and ever Mayer of Tokyo Mr. Shimpei Goto, named the watch "CITIZEN" and ever after this was adopted as the mane of the company. Since its founding in 1930, the company has achieved many milestones such as:
1924 : The first pocketwatch, the first pocket watch made at Shokosha Watch Research Institute, forerunner of Citizen Watch Co.,Ltd. Mr.Shinpei Goto, the Mayor of Tokyo at that time, named the pocketwatch "Citizen" in hopes of being popular and loved by citizens in the world.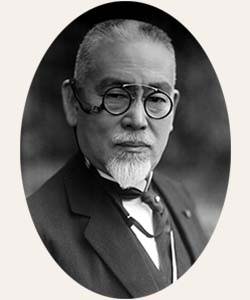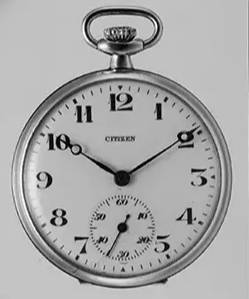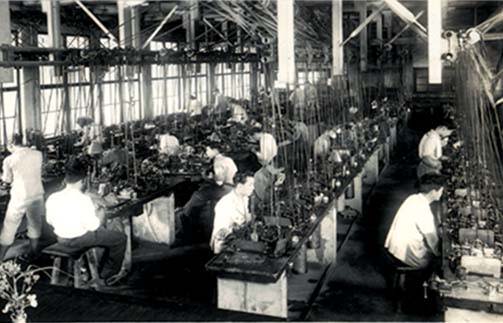 1930 : "Citizen Watch Co., Ltd." established taking the idea to the company name.
1931 : Citizen's first men's wristwatch. The market was in transition to a wristwatch.
1936 : Tanashi Factory, it was established in 1936 for greater mass-production line to correspond with the market's high demand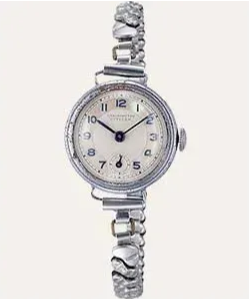 1956 Parashock Challenge public demonstration
1956 : The first domestic watch with "Parashock" technology. The experimental event for the testing of this watch, involved dropping it from a helicopter in Osaka, 30 meters above ground and was not damaged upon impact. The same experiment was held countrywide afterwards.
1958 : The first domestic watch with alarm, a built-in hammer beats the case back for about 10 seconds at the set time.
1959 : The first domestic waterproof watch ,"Parawater".
1960 : The first domestic watch for the visually impaired. Sold and also donated.
1960 : The first domestic watch for the visually impaired. Sold and also donated.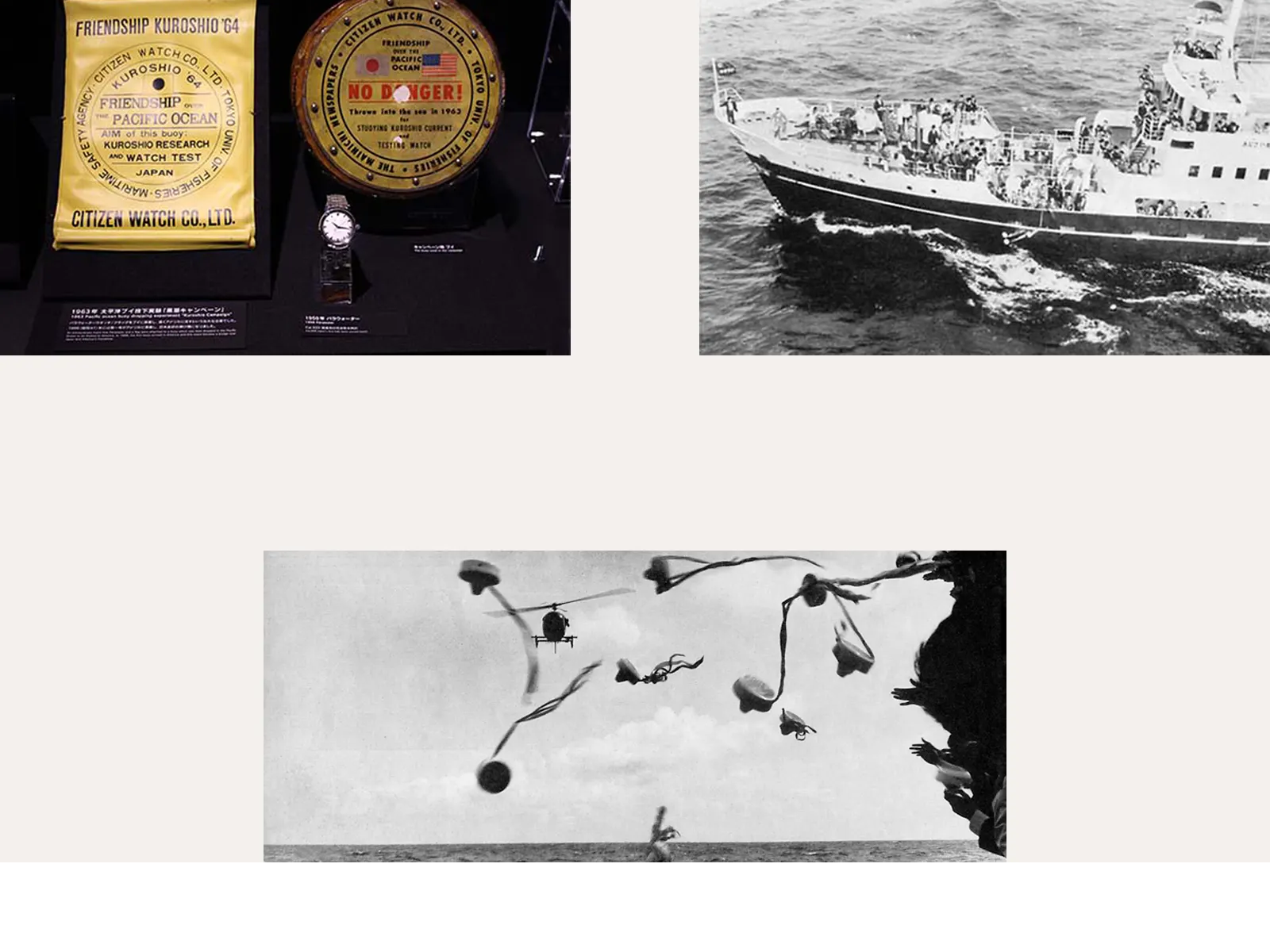 1959 Parawater Experimental Tools
1959 Parawater Buoy Challenge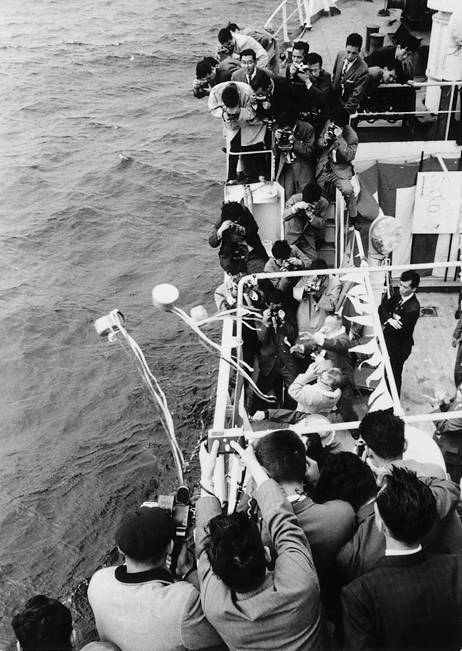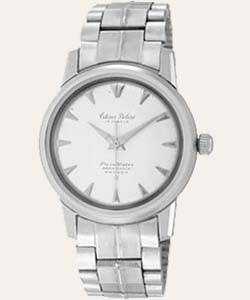 1962 : The world's thinnest men watch at that time, the movement as thin as 2.75mm.
1963 : The world's smallest ladies watch (at that time).
1966 : The first domestic electronic watch, "X-8".
1967 : World's first transistorized electronic quartz clock, "Crystron".
1971 : Tuning fork electronic watch "Hi-Sonic" marketed.
1974 : Analog quartz watch " Citizen Quartz Crystron".
1976 : The world's first quartz watch being accurate within 3seconds per year. Limited qty of 3,000pcs. Case and band were made from 18K.
1976 : In the birth of Solar-powered watches , "Citizen Quartz Crystron Solar Cell".
1978 : Thin quartz watch with movement less than 1.00mm thick.
1978 : The first domestic combination quartz watch. One movement holds the function of both analogue and digital ,"Citizen Quartz Digi-Ana". Being innovative, it sold more than 1 million pieces.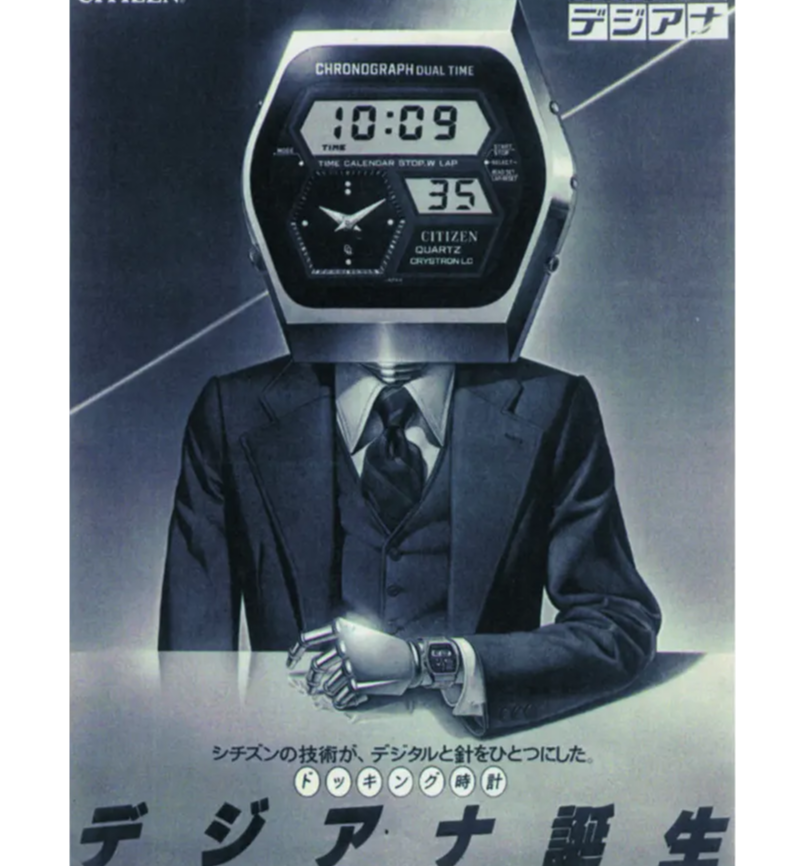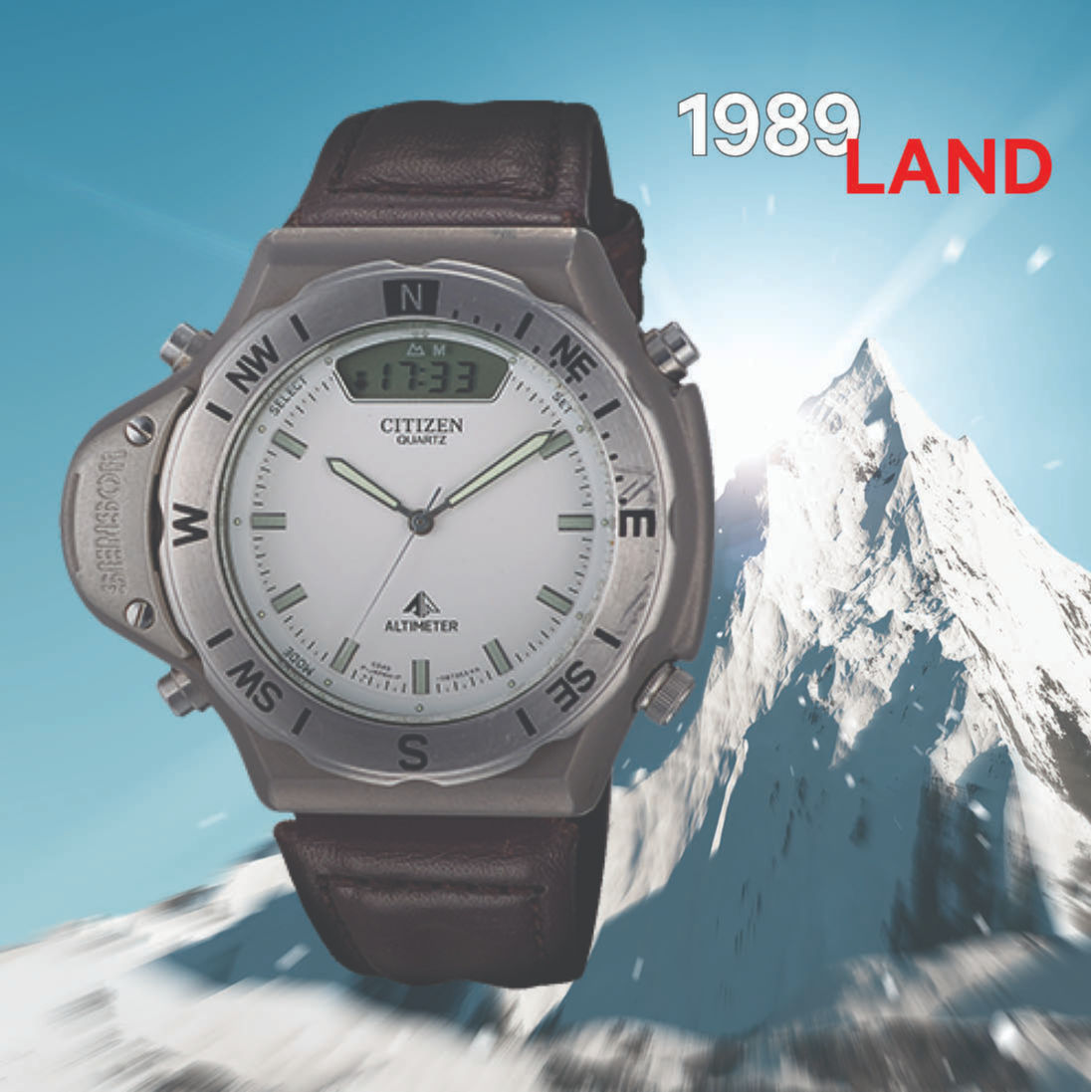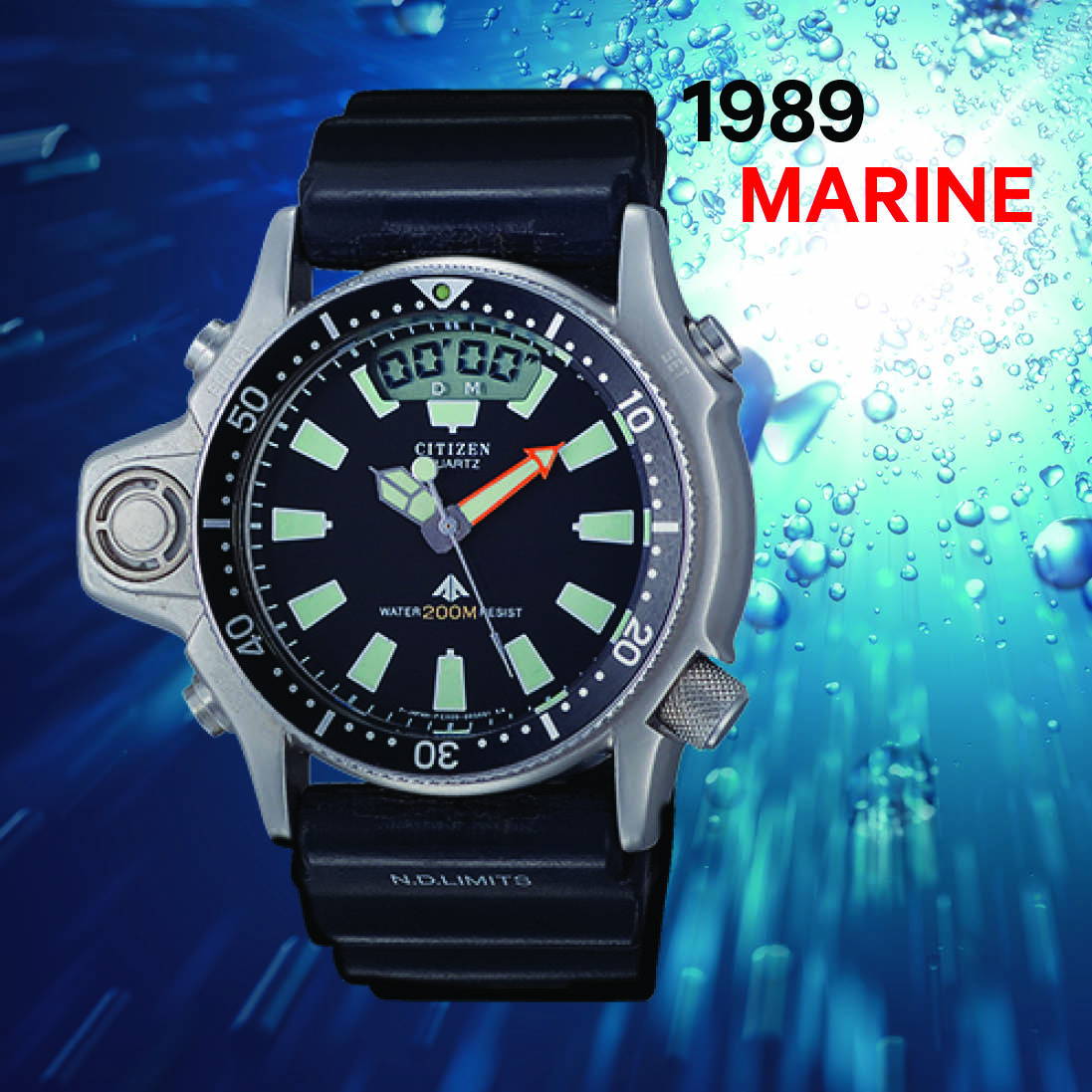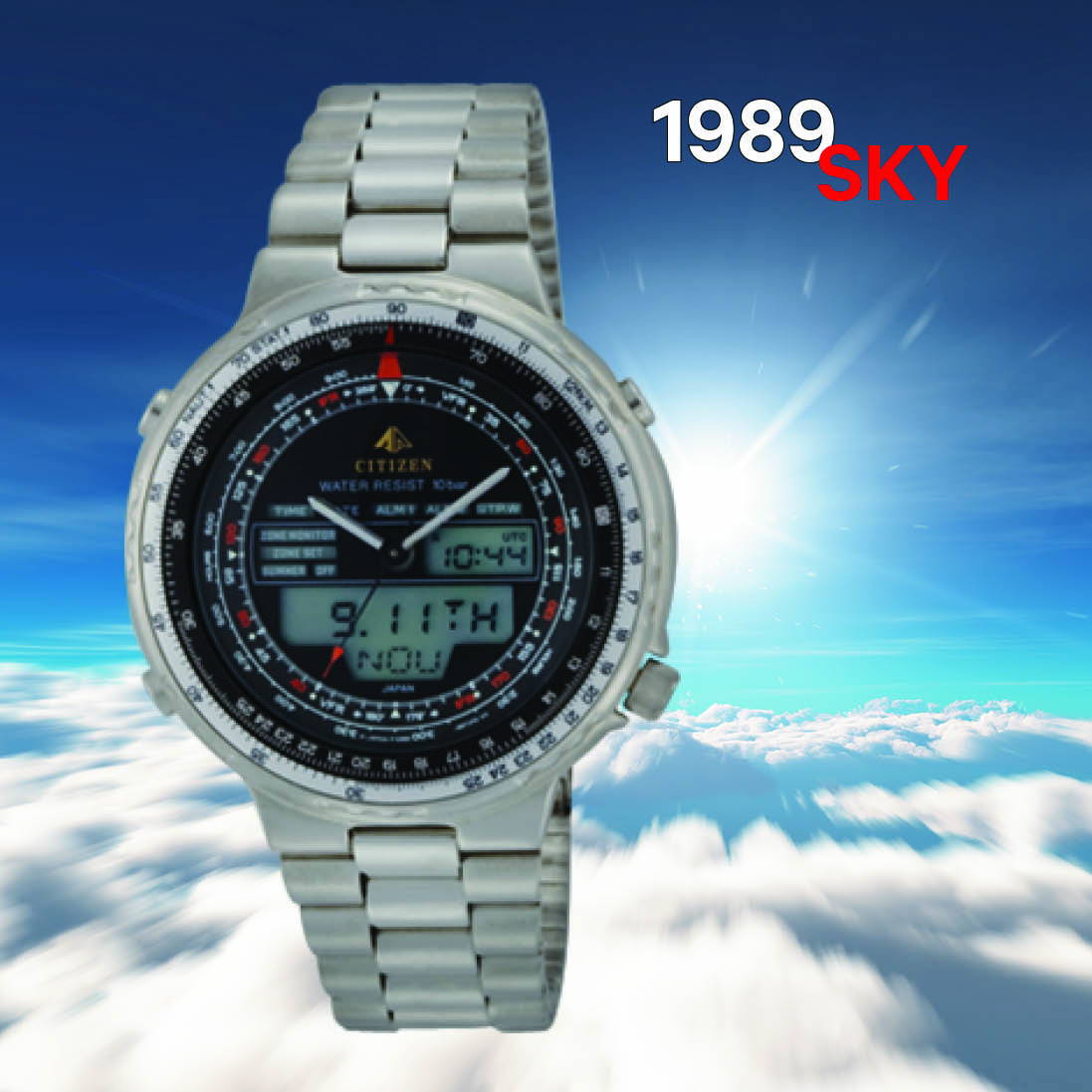 1989 : The world's first watch being able to measure altitude and air pressure. Was ideal for outdoor usage.
1982 : The world's first quartz divers watch with water resistance to 1300m.
1986 : The annual production quantity of movement become World's No.1.
1987 : The world's first digital quartz with sound recognition. Could operate the watch or by voice.
1995 : The world's first analogue solar watch with alarm chronograph and "The Citizen"
1996 : Light-energy powered " Eco-Drive" watch obtained " Eco Mark".
1998 : "Promaster Eco-Drive Duo", world's first hybrid power system watch (light power and movement power).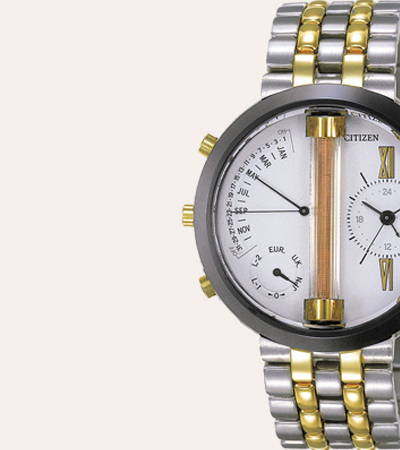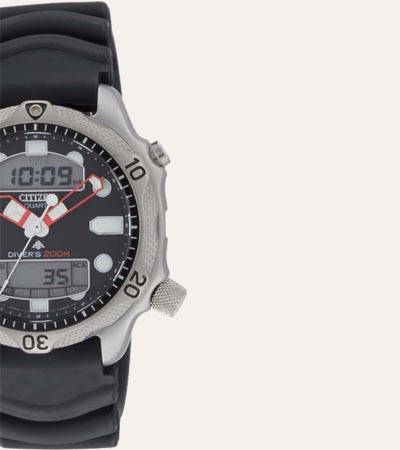 1999 : "Attesa Eco-Drive Radio-Controlled Watch" for Japan marketed.
2000 : Premium watch series " Campanola Collection" marketed.
2000 : Eco-Drive with transparent solar cell. Minute solar cells are situated under the cover glass. Opened up design possibilities of the dial.
2001 : Universal design watch "MU" marketed.
2002 : Uses the world's smallest module that time.
2002 : The world's thinnest Eco-Drive watch, Stiletto, at that time, as thin as 4.4mm.
2003 : World's first full metal case Radio Controlled watch with built-in antenna.
2005 : World's smallest Radio-Controlled watch movement, only 20.8mm x 3.5mm.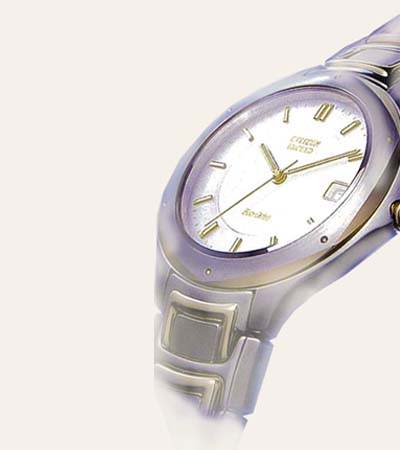 2006 : In the analog radio clock Full Metal Eco-drive radio launched the world's thinnest watch.
2007 : Eco-drive radio clock world time released a high-sensitivity receiver provides three areas in Japan, the U.S. world.
2008 : In addition to the three areas worldwide United States and Europe, launched the World Time Eco-drive radio clock radio capability to receive the new Chinese standards.
2008: CITIZEN bought Bulova Watch Company.
2009 : In 2009 BASELWORLD, Eco-Drive Dome, the concept model, was released.
2010 : In 2010 BASELWORLD, concept Eco-Drive Loop and Eco-Drive Eyes were released.
2011 : In 2011 BASELWORLD, the world's first satellite synchronized watch, Eco-Drive SATELLITEWAVE was released.
2012 : In 2012 BASELWORLD, concept models Eco-Drive Luna and Eco-Drive Nova was released.
2013 : In 2013 BASELWORLD flagship model Eco-Drive SATELLITE WAVE -AIR was released.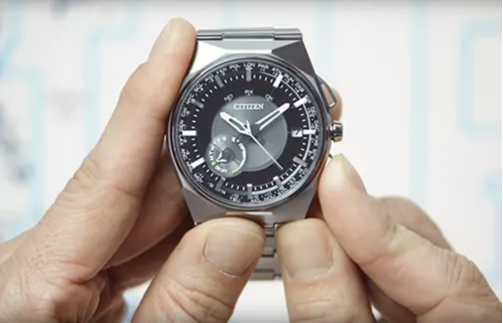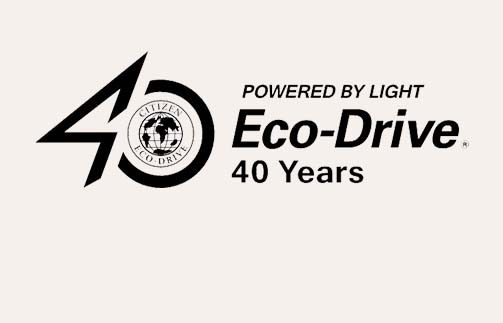 2014 : CITIZEN launched it's first global brand statement "BETTER STARTS NOW".
2015 : CITIZEN first global campaign: " CHASING HORIZONS" wins Gold Lion and Silver Lion at Cannes Lion 2015.
2016 : CITIZEN WATCH CO., LTD. to acquire FREDERIQUE CONSTANT GROUP.
2016 : CITIZEN marks 40th anniversary of its proprietary light-powered technology with Eco-Drive.
2016: CITIZEN Flagship Model for 2016 "CITIZEN Eco-Drive One"
2017 : Citizen Celebrates 25th Anniversary as the Official Timekeeper of the U.S. Open and Announces Partnership with Tennis Icon, Billie Jean King.
2018: "We Celebrate Time" event commemorating CITIZEN's 100th anniversary.
2018 : CITIZEN nominates tennis Pro Naomi Osaka as New BRAND AMBASSADOR.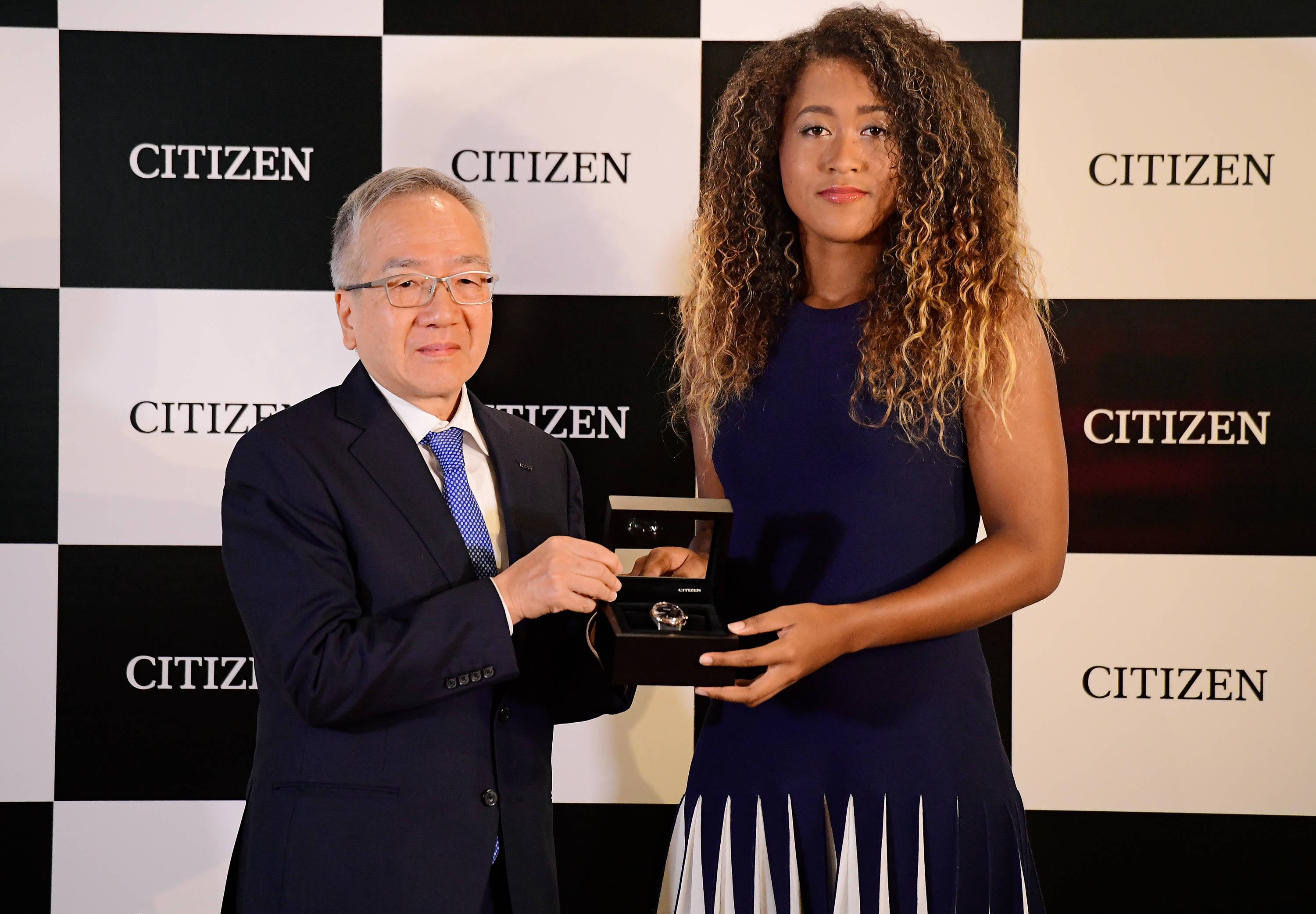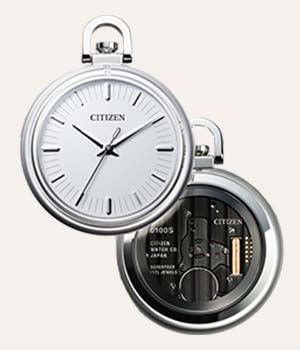 2019 : CITIZEN introduces "Caliber 0100" – New Eco-Drive
watchesfeaturing the world's most accurate time-keeping of within ±1 second per year.Three new models with limited quantity worldwide.
2019 : Marking the 30th Anniversary of PROMASTER, CITIZEN launches "Save the BEYOND" Campaign.