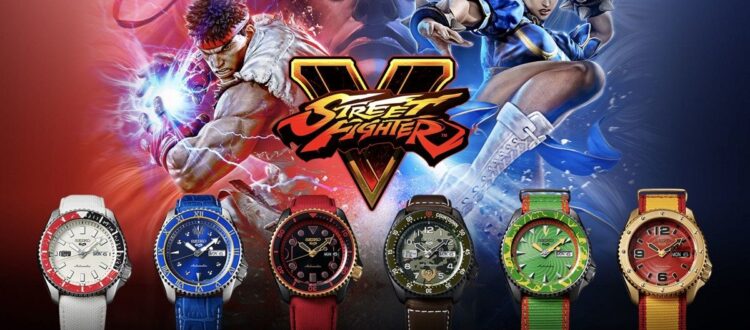 Seiko 5 Sports X Street Fighter V New Release 2020
Seiko 5 Sports X Street Fighter V
Click here to View the collection 
Introduced in 1968 and re-born in 2019, Seiko 5 Sports has offered a wide variety of durable and reliable mechanical watches for watch lovers of every age for over half a century. Today sees the release of six new Seiko 5 Sports creations that take inspiration from Street Fighter V, the latest edition of the world-famous Player VS Player fighting game, Street Fighter. First released in 1987, it is now the leading fighting game in the esports field, played and viewed by millions worldwide. Each of the six creations is inspired by the game's central characters: Ryu, Ken, Chun-Li, Guile, Zangief and Blanka. The series will be available worldwide at Seiko Boutiques and selected retailing partners in September as limited editions of 9,999 each.
RYU – Unshakable Fist – Click on image below to Pre-Order now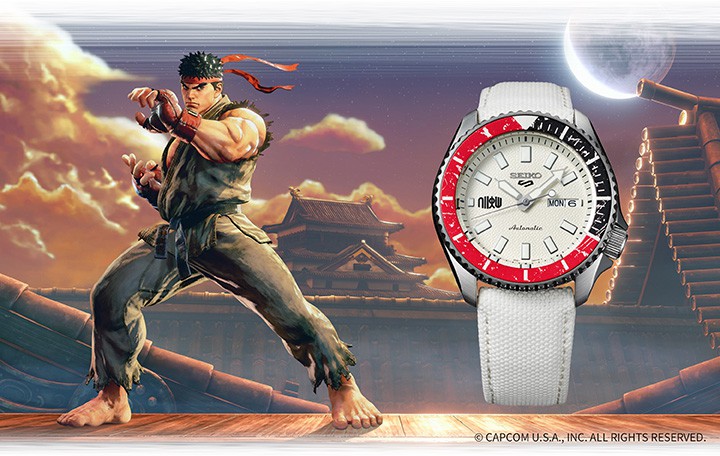 SRPF19
The watch's design is inspired by his classic "do-gi" Judo uniform, and the scratch-like marks across the bezel reflect the tough training required of Ryu to become a "true fighter". At the 9 o'clock position is a simplified version of the iconic "Furinkazan" kanji characteristics on his gloves, which signify "as swift as the wind, as gentle as forest, as fierce as fire and as unshakable as the mountain." These four characters are also printed on the back of the strap while the controller command for his special move, "Hadoken" is discreetly printed on the case back.
KEN – Rush 'n' Blaze – Click on image below to Pre-Order now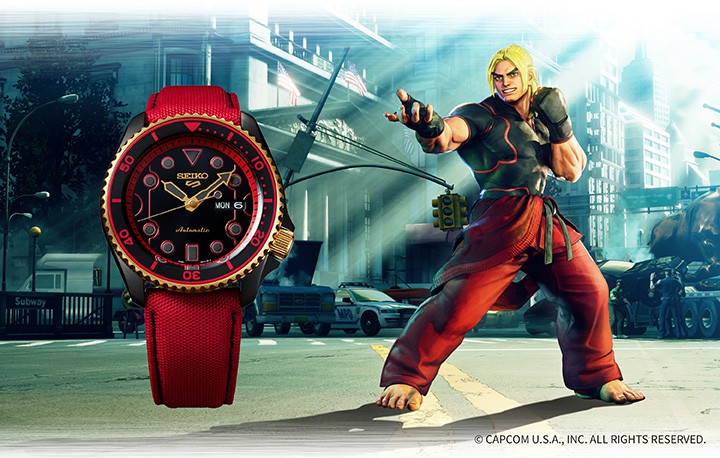 SRPF20
Ken's costume and blond hair are captured in the watch's red and yellow colour scheme, and his costume design is also reflected in the dial. At the reverse side of the strap end is the logo of his company, the Masters Foundation, showing another side to his identity. The command for one of the most known moves of the game, "Shoryuken" is printed on the case back.
CHUN-LI – Blue Jade – Click on image below to Pre-Order now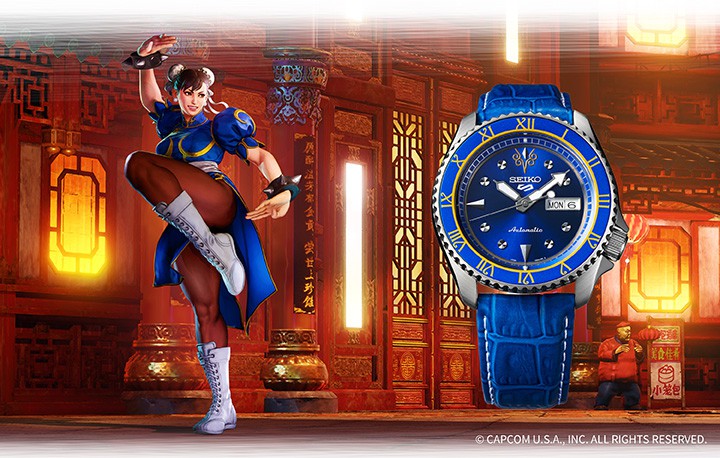 SRPF17
The combination of blue and gold brings to life Chun-Li's China dress. The same design on her dress collar is at 12 o'clock, and her spike bracelet inspires the indexes at six and nine o'clock. The beautiful dragon pattern on her waist belt is printed on the strap back, and her special move "Spinning Bird Kick" command is printed on the case back.
GUILE – Indestructible Fortress –  Click on image below to Pre-Order now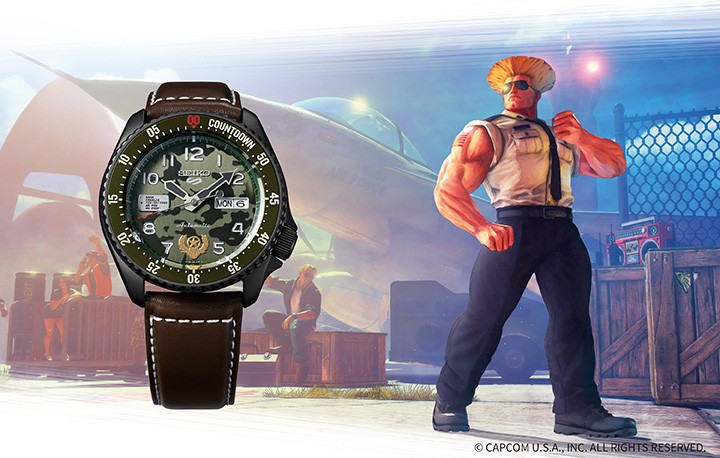 SRPF21
Guile's uniform as Major of the US Air Force inspires the military camouflage-patterned dial and patch at the 6 o'clock position. At 9 o'clock is the "dog tag" of his best friend Charlie Nash that he keeps with him to cheer him up and stay sharp during fights. On the case back is printed the command for Guile's special move, "Sonic boom".
ZANGIEF – Iron Cyclone – Click on image below to Pre-Order now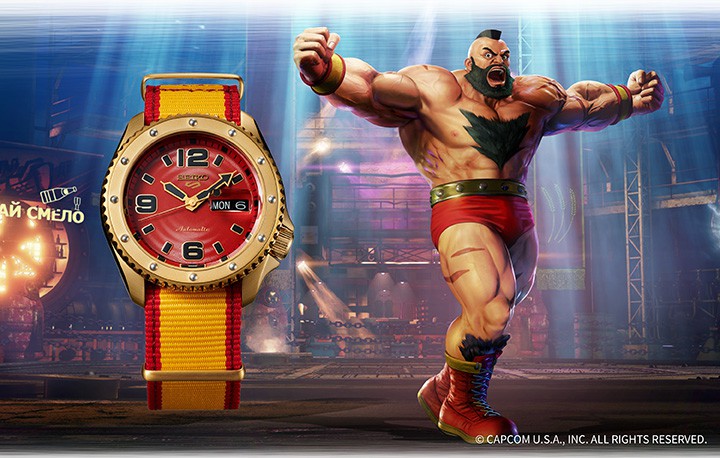 SRPF24
The dial's design reflects the power of Zangief's muscular body. The circular pressed pattern is reminiscent of his special move "Cyclone Lariat". The large, bold Arabic figures and indexes, as well as the calendar display with a magnifying lens adds impact to the watch. Its nylon strap is a perfect expression of Zangief's wrist band. The case back carries the command of his move "Screw Pile Driver".
BLANKA – Call Of The Wild – Click on image below to Pre-Order now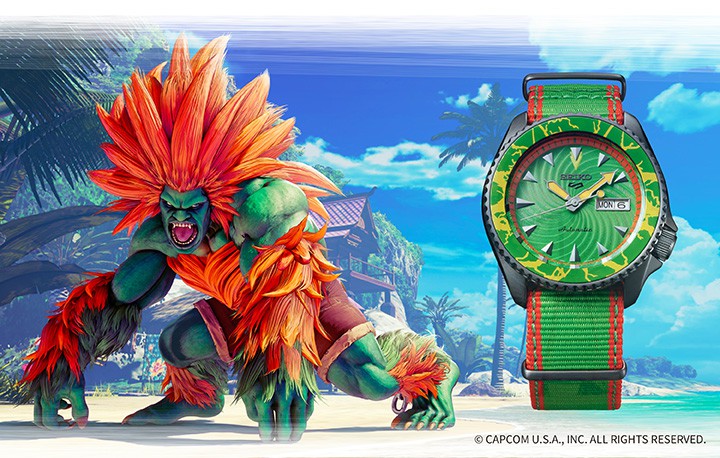 SRPF23
The bezel's electric discharge pattern captures one of Blanka's special moves, "Electric Thunder". The dial's pressed spinning design is based on Blanka's iconic rolling attacks, and the indexes are in the image of his sharp and powerful teeth. An affectionate "Blanka Chan" doll's image is printed on the back of the nylon strap end. The case back is printed the command for his special move, "Electric Thunder".
The movements are all Seiko's tried and trusted automatic Calibre 4R36, with 24 jewels, optional manual-winding, a 41 hour power reserve and a hacking second hand. All are water resistant to 10 bar and have see-through case backs.
Wear a Seiko 5 Sports of your favourite character and find a fighter worthy of your challenge!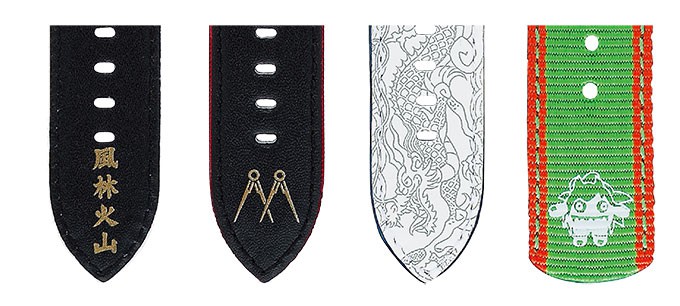 Detail designs of straps inspired by Ryu, Ken, Chun-Li, and Blanka. (from left to right)
Seiko 5 Sports Street Fighter V Limited Edition
Calibre: 4R36
Vibrations: 21,600 vibrations per hour (6 beats per second)
Power reserve: 41 hours
Number of jewels: 24
Specifications
Stainless steel case (SRPF17, SRPF19, SRPF21, SRPF23)
Stainless steel case with yellow gold colour plating (SRPF24)
Stainless steel case with black hard-coating and yellow gold colour plating (SRPF20)
Canvas and calf strap (SRPF19, SRPF20)
Calf strap (SRPF17, SRPF21)
Nylon strap (SRPF23, SRPF24)
Hardlex crystal
See-through screw case back
Diameter: 42.5mm, Thickness: 13.4mm
Water resistance: 10 bar
Magnetic resistance: 4,800 A/m
Limited editions of 9,999 each
Recommended Retail Prices in AUD $695
©CAPCOM U.S.A., INC. ALL RIGHTS RESERVED.
For further information view the official Seiko 5 x Street Fighter V Website
https://www.seikowatches.com/global-en/products/5sports/special/streetfighter/