GGB100-1A3 G-Shock Mudmaster
GGB100-1A3 G-Shock Mudmaster
A Short history on G-Shock:
 The DW-6100 with a thermometer was the first sensor-equipped watch, released in 1992. The DW-520 is a smaller and  fashionable watch for women with the same level of shock resistance as a G-Shock, introduced the Baby-G line for ladies in 1994. GGB100-1A3.
G-Shock  Mudmaster GGB100-1A3
Features
GGB100-1A3 consists of Metal button pipes to  ensure a tighter seal against the external environment, while the case is built of high-rigidity carbon material to prevent damage and deformation due to impact and other rough treatment.
A stainless steel panel back and an outer cover made of shock-resistant fine resin embedded with glass fibres make up the dual back cover.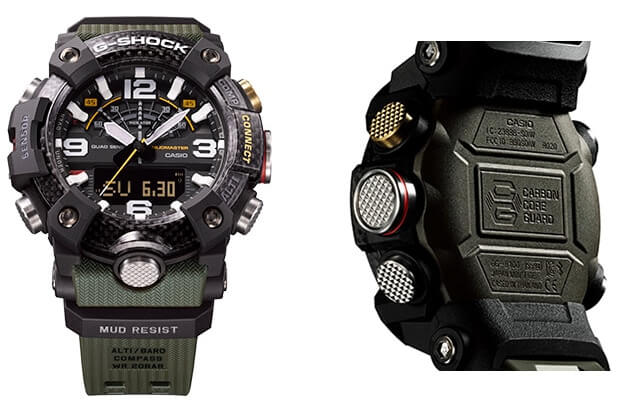 Over the last few years, Casio has focused more on purely analog or analog-digital watch dials for its higher-end watches. There are several reasons for this. we believe Casio is most interested in combining the practicality and durability of a G-Shock with the aesthetic appeal of a "genuine" analog dial when it comes down to it   (as opposed to an all digital watch face).
Hybrid dials, such as the one on the GGB100-1A3, which combines analog and digital features, have been a great compromise for Japanese watchmakers since the 1970s and truly took off in the 1980s.
Casio is always striving to improve, but the 2019 G-Shock Mudmaster GG-B100 line appears to have found a sweet spot of design.
Similarly the pricing, and functionality that will provide them with years of steady sales across a variety of colour palettes. This is one of the few goods that looks nice both on and off the road.  
Discover more Casio G-Shock at Linda & Co.
Browse all the Premium categories of Casio G-Shock including G-Shock MRG, G-Shock MTG, G-Shock GravityMaster, G-Shock Mudmaster and G-Shock Origin.
Linda & Co is a Premium Authorised dealer of Casio G-Shock.